About us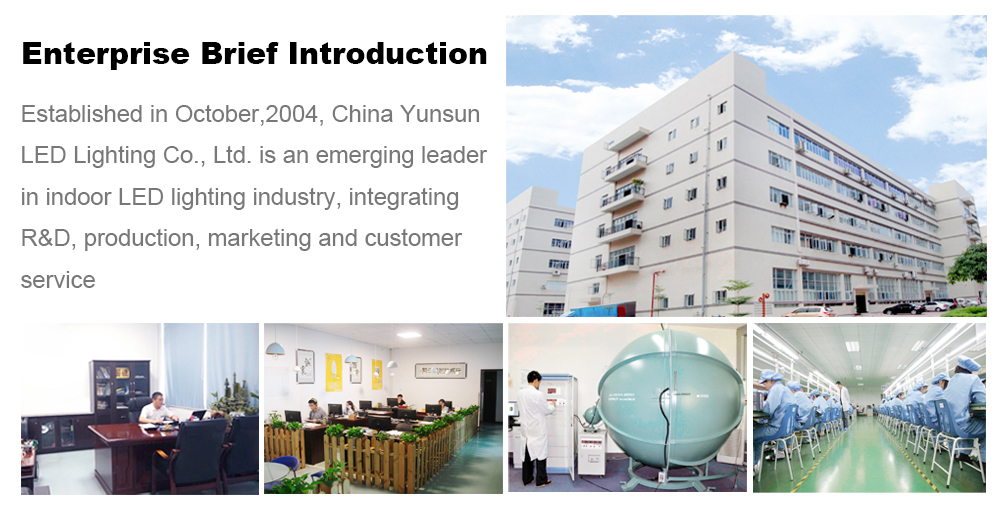 Yunsun is the specialist in indoor LED lights, has invested in state-of-the art automated production equipment, engineering and operator training in order to be able to produce products of the highest quality,delivering the best possible value to our customers. Our products are rapidly gaining market acceptance in USA, Canada, Mexico and some other American countries with our FCC and Energy Star Listed LED Down Lights.
Yunsun not only sells its products globally but communicates regularly with customers throughout the world insuring that our products continue to meet or exceed expectations. Our customer feedback has been excellent and customer references are available upon request.
Quality and Certifications
Yunsun has been certificated compliant to international standard ISO 9001:2008 Quality Management System and ISO 14001:2004 Environment Management System. All of our products are UL, FCC, Energy Star, CE, PSE and RoHS listed. Yunsun will work with you to insure that our products have applicable certification in your country.
Yunsun is looking for long term partners throughout the globe. We believe that our company's high quality, excellent services and advanced technology coupled with our fierce commitment to customer satisfaction will create win-win relationships for discriminating partners throughout the world.
Public Welfare Activities
Yunsun people are not only doing business, but also public-spirited, we are a member of FULUN Commonwealth Organization which organizes kind-hearted people from Taiwan and Mainland China going to Cambodia 2 times every year to support those local needy people by providing medicines, medical treatments, foods and educations.
A certain part of our incomes will be donated to this organization every year, support us, support Cambodia.